Everyone has an opinion about which are the best tourist attractions in Dublin. You could go by visitor numbers and quickly identify top tourist attractions. What we've done, however, is listed the best things to see and do in Dublin according to the hundreds and hundreds of guests who have stayed with us.
You couldn't get a better list of things to see in Dublin than this:
1. St. Stephen's Green
This is, of course, our favourite seeing as it's located right outside our front door. At 22 acres, it is the largest of the parks in Dublin's main Georgian garden squares. St. Stephen's Green has changed a lot over its four centuries but the current layout was designed by William Sheppard in the 1870s. Today it still remains a draw for Dubliners and tourists alike.
Generations of families have come here to escape the bustle of the city or to just feed the ducks (we'll give you the bread if you need it). While you're at the Fitzwilliam Hotel Dublin take half an hour to wander across the road and explore this fantastic local amenity.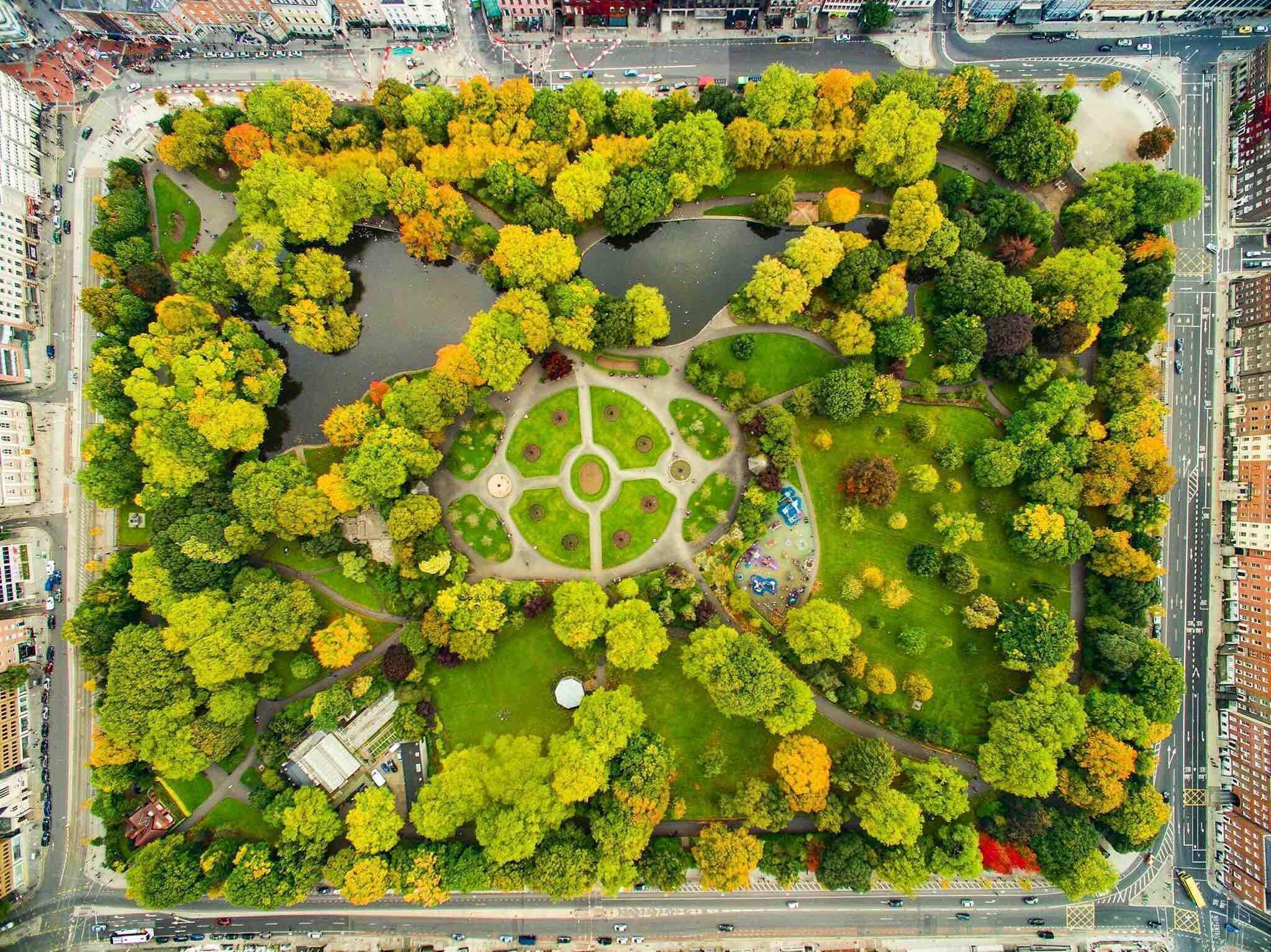 2. Guinness Storehouse
In sheer visitor numbers, the Guinness Storehouse on James' Street is the most popular tourist attraction not just in Dublin but in Ireland. It's a really interesting visitors centre that explains the history of Guinness, the most famous beer in the world. The story is told through various interactive exhibition areas including ingredients, brewing, transport, cooperage, advertising and sponsorship. In the Perfect Pint bar, you will get to pour your very own pint of Guinness.
The best part is the Gravity bar at the very top where you can peek out on the city through the glass walls encasing the bar.
3. Kilmainham Gaol
Sensitively restored and now one of our absolute favourite attractions, Kilmainham Gaol is the biggest unoccupied jail in these islands. It opened in 1796 and closed in 1924 and today it's hauntingly beautiful and gives a dramatic and realistic insight into what it was like to have been confined here.
It will give you a panoramic insight into some of the most profound, disturbing and inspirational themes of modern Irish history. Leaders of the rebellions of 1798, 1803, 1848, 1867 and 1916 were detained here, including Robert Emmet, Charles Stewart Parnell, the 1916 Rising leaders and Eamon de Valera. Many of them were executed here too.
4. Phoenix Park
Believe it or not, Dublin has the largest walled city park in Europe, Phoenix Park. Just northwest of the city centre, its 11km perimeter wall encloses 1,750 acres with large areas of grassland, tree-lined avenues, woodland, the President of Ireland's home (Áras an Uachtaráin), the American Ambassador's residence and Dublin Zoo. Since the seventeenth century, it's also been home to a large herd of wild fallow deer.
Right now the Irish Government is lobbying UNESCO to have the park designated as a world heritage site – It's a great and very popular attraction so we recommend you take a visit on your next trip to Dublin.
5. Temple Bar
Temple Bar is our Left Bank area, our "cultural quarter". It's on the south side of the river and is a warren of narrow cobbled streets, great restaurants, artists workshops, creative outlets, performance spaces and, of course, great bars like the Palace Bar, the Temple Bar Pub, Oliver St. John Gogarty's and The Auld Dubliner.
It's hugely popular with tourists and with hen and stag parties (you have been warned!) so don't go there expecting a quiet time.
6. Christ Church Cathedral
Christ Church Cathedral (or, more formally, The Cathedral of the Holy Trinity) is a cathedral of the Church of Ireland in Dublin. It's the older of the capital city's two Protestant medieval cathedrals, the other being St. Patrick's Cathedral which is just down the hill.
It's a stunning building, both inside and out, and sits proudly in the heart of the medieval city (the first cathedral was built on this site in 1028). There are many great figures buried here but it's most famous resident is the Norman magnate Strongbow and you can see his tomb in the main part of the church.
7. Jameson Distillery
Not far from Christ Church and the Guinness Storehouse is the Old Jameson Distillery which is located just off Smithfield Square (along the red Luas line). It opened as a tourist attraction in 1997 on the site where the original distillery had produced Ireland's most famous whiskey since 1870.
If you've got time during your visit to Dublin, put the Old Jameson Distillery on your list of places to go – there's a guided tour, whiskey tasting, bars, restaurant and a gift shop.
8. Malahide Castle
Just north of the city (nine miles in fact) sits the gorgeous Malahide Castle on 250 acres of parkland in the pretty seaside town of Malahide. It was both a fortress and a private home for nearly 800 years and is an interesting mix of architectural styles.
Inside, the house is furnished with beautiful period furniture together with an extensive collection of Irish portrait paintings, mainly from the National Gallery. A major feature of Malahide Castle Demesne is the beautiful Talbot Botanic Gardens which were laid out by Lord Milo Talbot between 1948 and 1973.
So there they are: Our top tourist attractions in Dublin City. You can read about other things to do and to see in Dublin by following us on Facebook.