Family Favourites
Tayto Park
Tayto Park is a bit out of the city but, how do we explain this? It's a fantastic theme park with the biggest wooden rollercoaster in Europe and all dedicated to Mr. Tayto who is, er, a potato.
Not only is it a theme park but it's also a zoo with over 100 attractions – plenty to keep the kids entertained all day.
National Aquatic Centre
Aquazone at the National Aquatic Centre is worth a visit if you have little kids and want to spend quality family time together while having the best of fun. Go completely crazy on a great choice of slides, flumes, pools and other daft water things.
You will never want to leave the innovative water park……there's something for everyone.
Natural History Museum
The Natural History Museum is just around the corner from the hotel and with over 10,000 exhibits is a brilliant way to spend an afternoon or morning.
The creaky wooden floors and decorative displays suitably add to the other-worldly feel of the museum giving you a true taste of heritage, culture and history.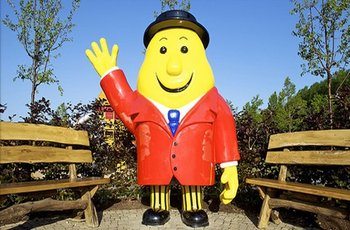 National Botanic Gardens
The National Botanic Gardens are an oasis of calm and beauty in the north of the city playing host to a multitude of flowers and plants from diverse climactic regions of the world.
Staff are experts on the scientific backgrounds of everything in the natural gardens so ask them loads of questions if you visit.