Everyone in the city has an opinion as to which are the best bars in Dublin. Leaving aside the old, dark traditional pubs, let's talk about the more contemporary bars. The smooth, modern, hip places every Dubliner is talking about.
Here are our, and most people's favourite bars in Dublin:
1. Café En Seine
This used to be, and probably still is, the biggest bar in Ireland – it's huge. Café En Seine is also very elaborate and, if you take the time to look around, you'll see just how much design and work went into this place.
It's on Dawson Street, just around the corner from the hotel. Ask our concierge for directions if you're staying with us or to grab a taxi if your heels are too high for the walk!
2. 37 Dawson Street
A couple of doors up from Café en Seine is 37 Dawson Street. This Dublin bar has a bordello feel, with lots of dark wood, velvet and glass. It feels classy but also comfortable. Upmarket but relaxed, if you follow us.
It's also got great food and is more of a cocktail bar than a pub, per se. Like its neighbour, this bar gets pretty busy in the evenings, especially late at the weekends, so plan accordingly.
3. Sam's Bar
Next door to 37 Dawson Street is 36 Dawson Street, or Sam's Bar as it is called. This is a more contemporary kind of bar with a huge bar back, high ceilings and big, comfy bar stools, good art and even some greenery.
It's more cocktails and late night revelers than creamy pints of Guinness and locals. You'll like it because it's quite different as you can see below.
4. Chelsea Drugstore
Now you know with a name like the Chelsea Drugstore this is going to be a fashionable, image-led bar. And so it is. You'll have to walk a little further to find it, up on South Great Georges Street, but not too far.
Take in the black and white tile and exposed block work with nice touches like cut glass and candles when you're inside.
5. The Hairy Lemon
The Hairy Lemon is one of the older Dublin bars on our list and yes, probably the one with the most unusual name. It was named after one of the city's great characters – a dog catcher in the 1950s, apparently.
Much of the film The Commitments was filmed here and it's a higgledy-piggledy collection of rooms, staircases and memorabilia. There's usually a traditional Irish music session on in here somewhere but you have to look hard to find out where the musicians are sitting.
6. P. Mac's
This is a new bar and already a favourite amongst the great and the good people of Dublin city.
P Mac's has really great food, craft beers, friendly service, free snacks and even board games to while away your time. Again it's not very far from the Fitzwilliam Hotel and well worth making the trip for.
7. The Exchequer
A big, beautiful gastropub, The Exchequer on Exchequer Street (of course) is really more about the food than the drink. Although, and particularly as it gets later, it is a very busy bar thanks in part to an excellent location.
The food is pretty meat-based (steaks, roasts, etc) and features a lot of good, wholesome, local produce.
8. Capitol Lounge
On Aungier Street, the Capitol Lounge is more minimalist in design than the other bars we have reviewed here. Its simplicity is refreshing and it pitches itself more as a cocktail bar than a pub.
There are a lot of students around Aungier Street and their presence is reflected in the specials which are pretty good value.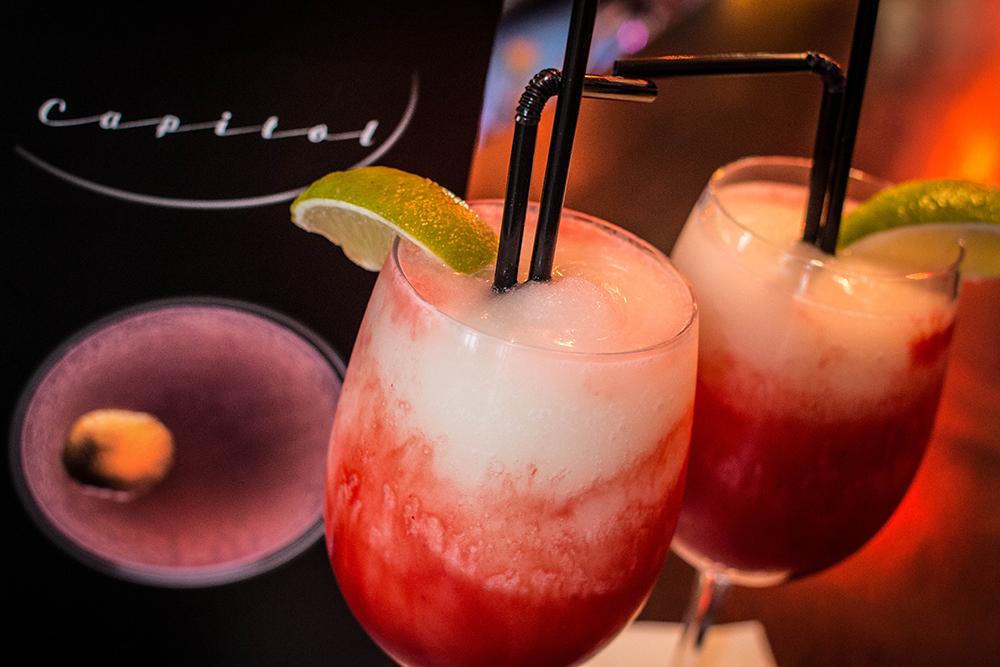 9. Inn On The Green
This bar could not be any closer to your hotel. In fact the Inn On The Green is actually inside the Fitzwilliam Hotel. As you'd expect, it's really cool, with a menu of wonderful sounding cocktails which are served up alongside creamy pints of Guinness to bemused visitors and colourful locals alike.
The food is, of course, delicious and the service is probably the best in the city. But then, we're a little biased here.
10. The Bailey
The Bailey on Duke Street is a Dublin institution. Great for lunch and dinner but even better for sitting outside, sipping a cocktail, whiskey or prosecco and watching busy Dublin scurry by. As there are lots of offices closeby, the Bailey fills up and it's a wonderfully eclectic mix of young Turks and more world-weary clientele.
It's always been a busy bar but there are few nicer places in the world to be than here on a quiet, wet mid-week afternoon with a book or newspaper.
11. Vintage Cocktail Club
Ok, so it sounds incredibly pretentious but don't judge it yet. The Vintage Cocktail Club is a rather exclusive (you knew it) cocktail bar (you knew that too) in Temple Bar (got you).
Patrons on TripAdvisor are claiming its "cocktails are the best in Ireland bar none. Highly skilled mixologists creating works of art in a vintage feel environment that is fantastic." High praise from, we hope, not the owner. Actually, we've been there and highly recommend it.
12. No Name Bar
No Name Bar  or The Bar With No Name is on Fade Street. Naturally, it does not have a sign outside but there is a big wooden snail above the entrance for some reason. Go in, go up the stairs and you'll find yourself in a rather funky bar on the roof that feels like a loft party.
It's all about image and you'll find the most popular drinks are wine, long necked funny-sounding beers and cocktails, rather than the most famous Dublin beer. But it's a pretty cool bar.
These are 12 of the best bars in Dublin. If you're planning a night out in Dublin, consider this list your menu. Bon appetit.
Summary
Article Name
12 Best Bars in Dublin You Need to Visit
Description
Everyone in the city has an opinion as to which are the best bars in Dublin. Leaving asidethe old, dark traditional pubs, let's talk about the more contemporary bars. The smooth, modern, hip places every Dubliner is talking about. Here are our, and most people's favourite bars in Dublin
Author
Publisher Name
Publisher Logo